TRY RISK FREE
FOR 14 DAYS
You're 100% covered — if it's not for you, send it back within 14 days for a quick, no-hassle refund.
Worldwide Fast shipping
We ship anywhere in the world!
Shipping time currently to most places is 5-20 business days and is FREE!
THE ULTIMATE
3-DIMENTIONAL ARM BUILDER
The revolutionary new 'Portable Gym' delivers a more immersive workout experience, allowing you to emulate natural arm joint movements and develop up to 100 different exercises.
Access unmatched gym-level training instantly and anywhere.
STABLE AND HEALTHY JOINTS
CRUSHING GRIP
DEFINED AND STRONG ARMS
STRESS RELIEF
How does the Tornado compare?
Targeted Forearm Activation
Noticeable improvements in gym record
Activates all 24 muscles of the arm
Capable of delivering 100 different workouts
What makes Gripzilla Tornado different?
PORTABLE
Requires no special setup so that you can get your grind on anywhere!
No matter where you are, "Gripzilla Tornado" is the ideal exercise companion. This portable, lightweight exerciser is easy to pack in a gym bag and can go with you on vacation or business trips, giving you a simple way to maintain your fitness goals while you're away from home. Now nothing can stop you from quickly pumping your blood with its feather-light weight of just 3 lbs, whether you're relaxing on vacation or watching TV at work.

"I've been using this for over two months now, and I seriously noticed a lot of difference. My endurance is through the roof, and my grip has greatly improved. I am thrilled with the results." – Glen.
EASY TO USE
Perfect for anyone, regardless of their experience level!
"Gripzilla Tornado" is an easy-to-use exerciser that provides incredible benefits for athletes and armchair enthusiasts alike. Its abilities are available to all levels of athletes, from climbers to powerlifters, gym junkies or not. Rehabilitation centers can use it for wrist and forearm physical therapy. It takes no time to understand the adjustment procedures; you'll be on your way to peak performance levels in just a few minutes!

Tornado uses principles similar to those introduced in the exercise tools of M.Sotski with modernized and improved features that offer a novel approach to upper body training.
50X INCREASED GRIP STRENGTH
Develop the arm strength you've always desired! Train your arms to the fullest extent to regain shell-shocked confidence!
Gripzilla Tornado gives you the ultimate workout experience with its range of advanced features; from smooth resistance control to full amplitude movement, it's a must-have for any strength training enthusiast. Not only does this unique tool help simulate natural wrist motions and provides stretching and flexibility exercises that reduce your risk of injury during intense physical activities. With Gripzilla Tornado at your disposal, you can improve grip, forearm muscles, dynamic stretching, and overall muscle development, pushing yourself further!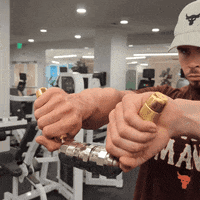 "This is hands down the best gym equipment I have ever owned. It is also kid friendly! Yesterday my son wanted to try it out, and everything went smoothly. 10/10" – Steve
BETTER GYM PERFORMANCE
Enhance your performance by building up your strength, resistance, and endurance.
"Gripzilla Tornado" allows you to experience your body's natural motion with maximum control and precision, targeting all joints in three dimensions. Perfect for rehabilitation from an injury or improving strength, this device offers a novel way to work muscles that are usually hard to reach. Instead of relying on one's pure physical power as other arm exercises do, "Gripzilla Tornado" helps customize movements according to individual needs so that you can maximize your performance output!

"Quality and efficiency are the first two words that come to mind when I think about my Tornado. Over the moon with the results I am seeing!" – Brandon
Our Mission:
This generation has yet to realize how crucial good gripping technique is for maintaining a healthy body.
Our goal is to empower people of all ages by building strong and muscular forearms, healthier joints, and powerful hands. We are committed to assisting both men and women to regain a stronger hold.

Improved gripping power can help you gain true strength and healthier joints today.